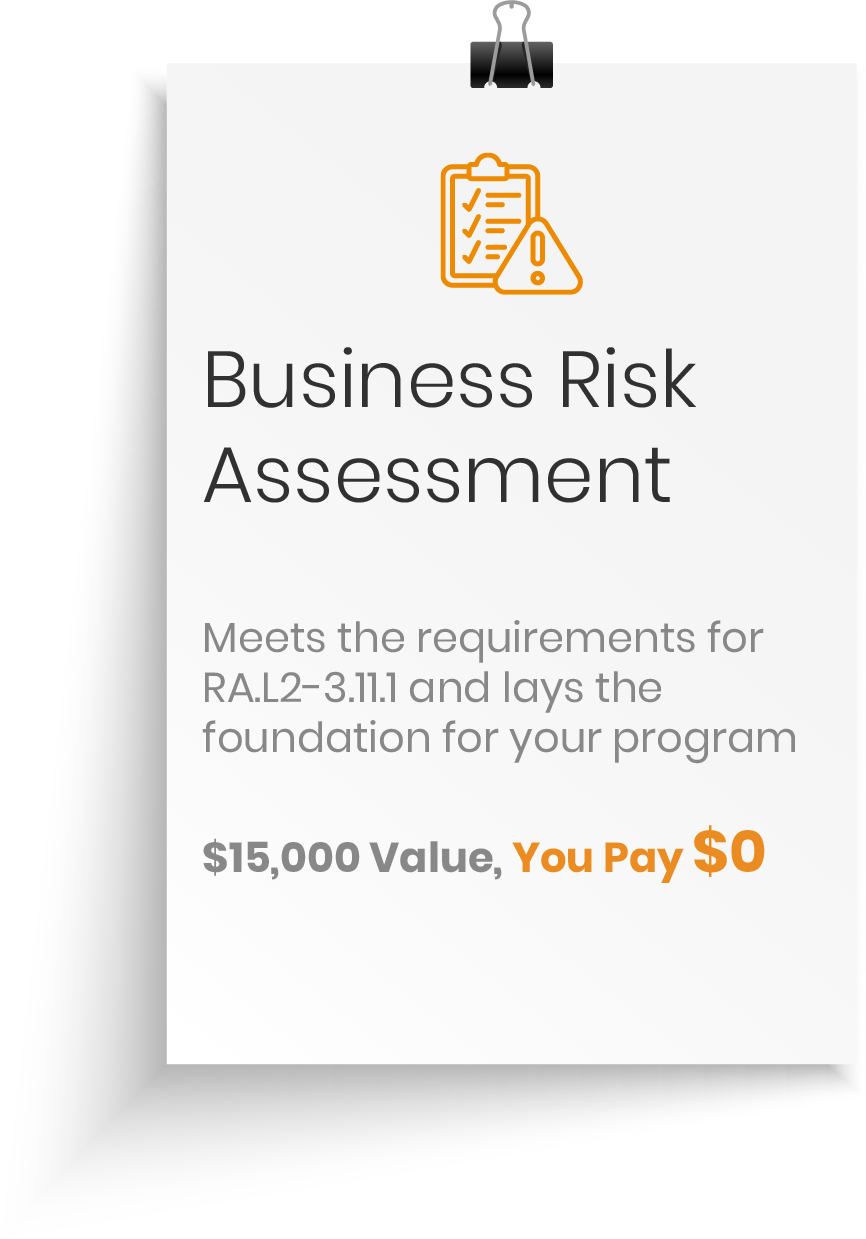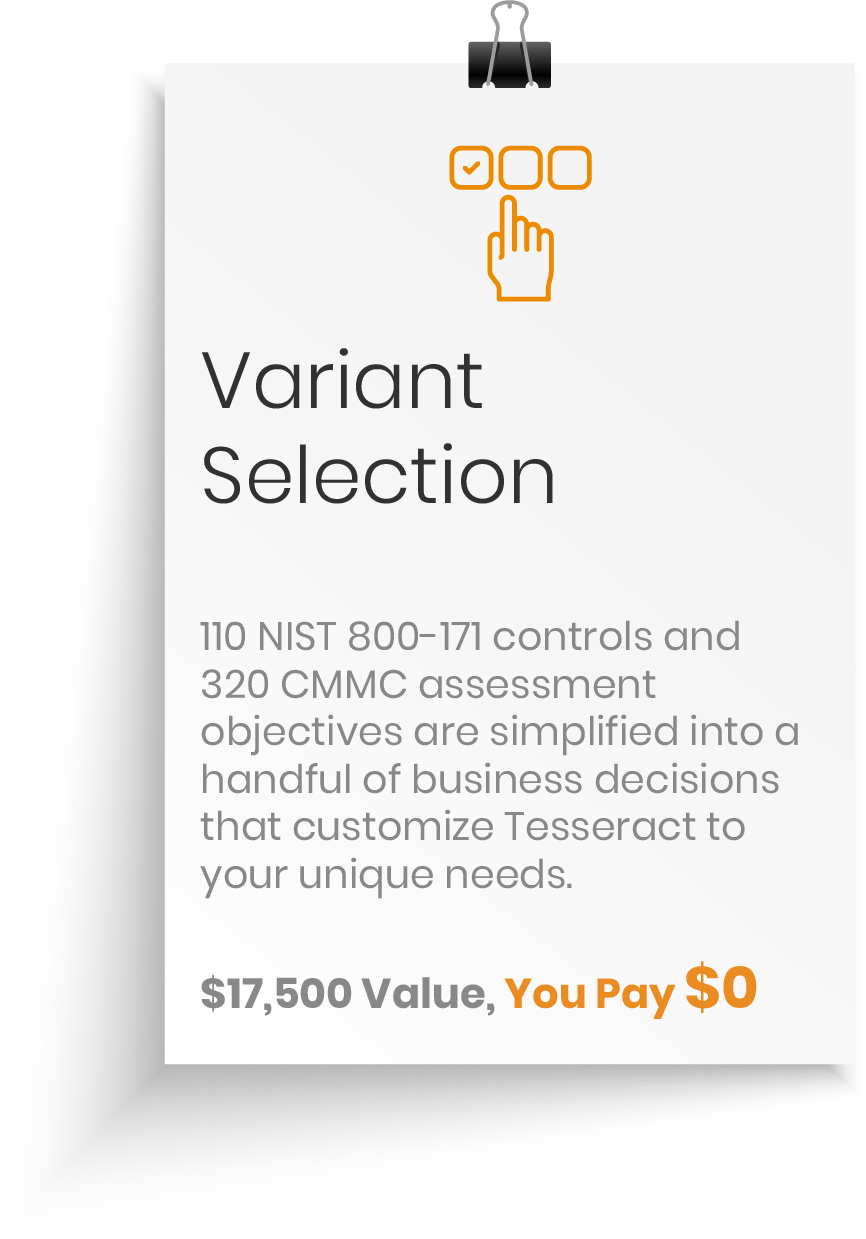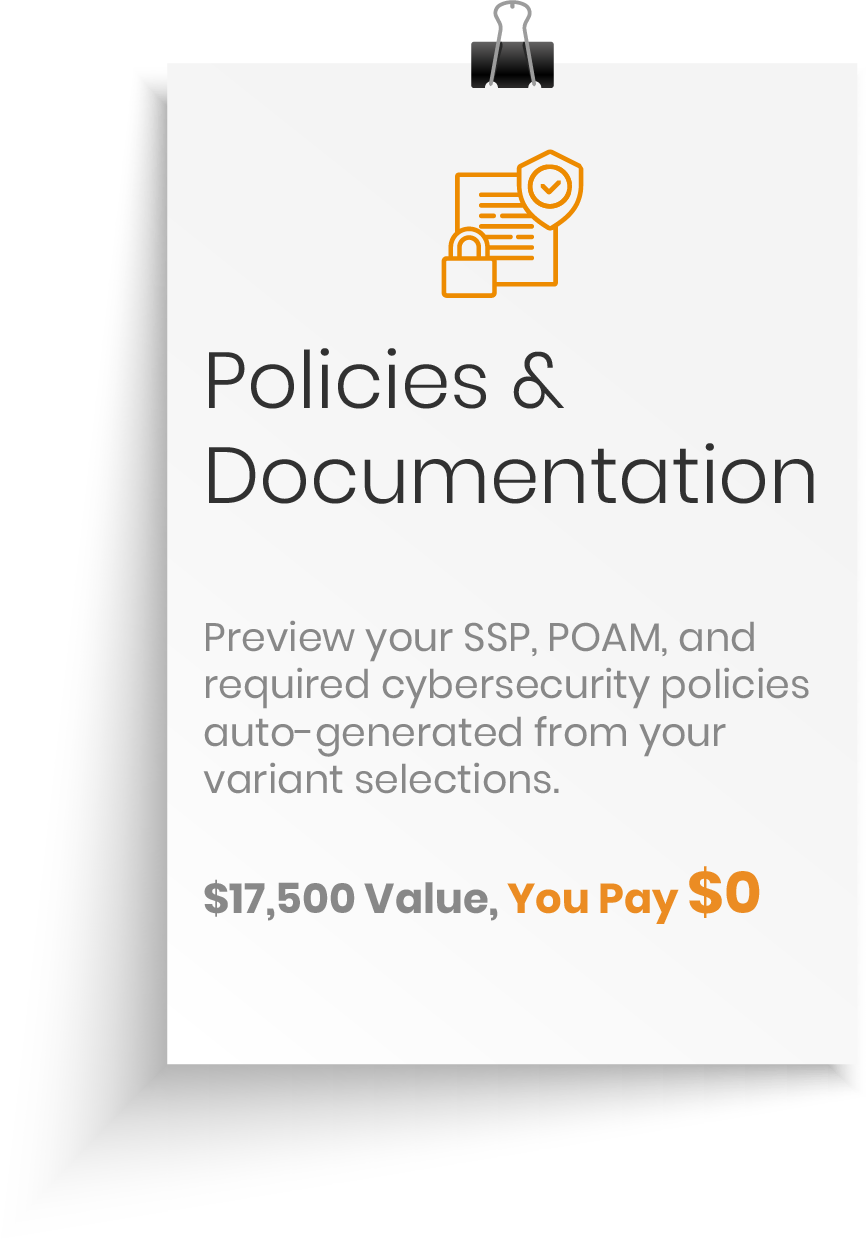 Develop your comprehensive and compliant program design and plan for your business at no risk. Planning services can cost anywhere from $20,000 to $50,000 from other RPOs, you pay nothing until you're ready to implement!
Our Process
Saves Time
Saves Money
No-Risk Plan
Implement What You Know Works
Their Process
Time Consuming
Expensive at Every Turn
All Risk, No Proof
More Money for Less Value
Free Risk Assessment which meets the requirements for RA.L2-3.11.1 and lays the foundation for your program

Best practices based on your business needs

System Security Plan (SSP) & Plan of Actions and Milestones (POAM) development

Overview of the Tesseract Managed Cybersecurity Program and your path to getting & staying compliant

Technical design of your Tesseract program enclave

Exclusive deals on additional tools like Microsoft GCC & GCC-High
Schedule Your Introduction Now!
More Reasons to Love Tesseract

Dedicated Program Advisors
Delivering the helpful hand to guide you through developing and maintaining your cybersecurity program. Your designated Program Advisor is dedicated to your business, understanding your unique challenges and goals to leverage their expertise to make your program a success.

Evolutionary for Evolving Threats
Threats are always evolving, that's why your Tesseract program evolves with them. We continuously monitor compliance and threat activities to help your program naturally adapt and evolve so you can be confident in your maturity.

Audit Guarantee
If you fail an assessment (that's a HUGE if), we'll help you make changes to your program at no additional cost - we are behind your 100%!

Across the Line
Affordability is a major issue in the cybersecurity industry. We've pledged to create opportunities for all by developing quality products and services that won't force you to choose between comprehensive cybersecurity and your budget.

Flexible Payment Options
The Tesseract Managed Cybersecurity Programs come with no minimum purchase and up to 15% off. With financing options also available, you can now easily manage the cash flow of your investment while better protecting your data.

The Cyber AB RPO
We have received The Cyber AB's Registered Practitioner Organization designation demonstrating that we have met all the requirements to be able to deliver the Tesseract Managed Cybersecurity Program to the defense supply chain.